Tops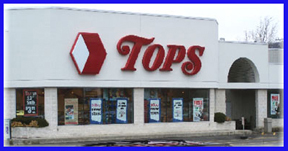 Riverwalk Plaza is anchored by the 50,000 square foot Tops Friendly Market store. The second largest store in Riverwalk Plaza. It features a full line of groceries, a custom butcher shop, a fresh seafood department, an excellent produce department, a bakery department, and full service deli department. Tops customers can now enjoy Tim Hortons Coffee, Smoothies, Donuts, and other treats adjacent to the Tops Carry Out Cafe!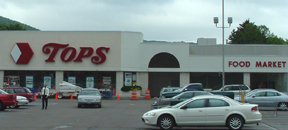 Tops is open from 6:00 AM to Midnight.
Tops is located at 111 Bolivar Road in the Riverwalk Plaza in Wellsville, NY. The store can be reached by phone at (585)593-0166.
FUNDRAISER: Tops Market is putting on an "After" Mardi Gras Party To Benefit Juvenile Diabetes Research Foundation When: Saturday, March 8th 2014 9:00 PM til 1:00 AM Where: Wellsville Elks Club Special Guest: Zoar and Steel Door Hats, mask beads and great music. Join us for a fun night to help raise money for a great cause.
Tops is open at 6:00 am on Thanksgiving Day (11/27/14) til 5:00 pm
For additional information on the features and services available at Riverwalk Plazas Tops Market, go to the Tops Web page.